"Location will always have attached to it some degree of relative advantage or disadvantage"-Edward Soja.
This quote by legendary postmodern political geographer Edward Soja alludes to the concept of Spatial Justice, a theory that analyzes the relationship between marginalization and geography and how the two are inextricably linked. Soja states that "locational discrimination created through the biases imposed on certain populations because of their geographical location is fundamental in the production of spatial injustice and the creation of lasting spatial structures through privilege and advantage."
When it comes to the Climate Crisis imposed on all of humanity, it is without question that those who are most vulnerable to its impacts live in areas that are pre-disposed to poverty and are easily susceptible to both rising sea-levels, air and water pollution, and toxic chemicals released into the atmosphere. Despite being some of the most poverty-stricken and war-torn continents globally, Africa is joining the global fight against the Climate Crisis. It is up to us as collective individuals who have positively benefited from the concept of Spatial Justice to make sure these organizations receive the recognition and support they deserve. See Below:
1. African Sustainability Energy Association (AFSEA)
Based in Johannesburg, South Africa, AFSEA is one of the leading organizations in the nation's Business/Sustainability sector. AFSEA claims they promote and educate the entire continent on all viable Rewnebale Energy Solutions, not just one in particular. These include Wind, Solar, Biomass, Biogas, Bio Fuels, Green Products, Energy Saving, Alternative Energy, Energy from Waste, and Fuel Cell Technologies. This multitude of sustainable solutions is the reason why AFSEA partners with various companies all over the world, "so they may prosper and gain the knowledge needed to expedite the implementation of renewable energy as a significant source of energy" (AFSEA). 
The organization's team includes developers, contractors, consultants, suppliers, and research institutes both at local and governmental levels, all fighting toward the collective goal of building a greener planet through sustainable business practices.
To learn more about AFSEA and how to support the organization, click here: https://afsea.org/.
2. African Youth Initiative On Climate Change (AYICC)
Formed in 2006 in Nairobi, Kenya, AYICC came into fruition after a conference about 'youth' and the environmental changes they inevitably face. The group has over 20,000 members in over 45 African countries. It acts as a platform for African youth to share both their strategies and policy implementation ideas concerning climate change in the continent. The African Union Commission, African Climate Policy Centre, and the UN Economic Commission for Africa have all recognized AYICC's commitment to their cause-related goals and the positive impact they can have on Africa and the world at large.
Although AYICC does not have an official website, attached is more information about the organization and a link to their Facebook page. Click Here:
https://public.wmo.int/en/resources/bulletin/how-african-youth-are-participating-global-climate-change-politics
https://www.facebook.com/The-African-Youth-Initiative-on-Climate-Change-AYICC-161214162089/about/?ref=page_internal
3. Centre for Justice Governance and Environmental Action (CJGEA)
Based in Mombasa, Kenya, CJGEA is a self-described "human rights advocacy organization working for the realization of environmental and human rights of the economically marginalized communities around extractive industries and toxic sites." Within poor neighbourhoods in Africa and around the World, it is common that residents are surrounded by industrial plants, toxic waste, or polluted areas that release chemicals that mix into local water streams and air. Through policy change and environmental governance, CJGEA demanded change from the Kenyan government to "develop advocacy strategies towards addressing the growing linkages between the environment and human rights." It is a strong-willed organization seeking environmental and human justice for Kenya's most marginalized residents and continues to demand change at both the local and governmental levels.
To learn more about CJGEA or to donate to the organization, click here: https://www.centerforjgea.com/about-us.php.
4.  African Biodiversity Network (ABN)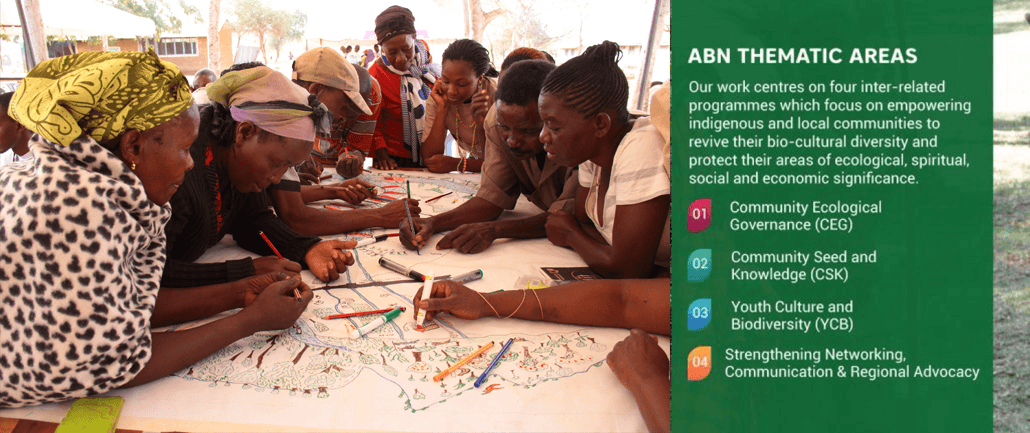 This organization was founded in 1996 to combat the impending threat of biodiversity loss and other ecological, socio-economic challenges around the continent. ABN seeks to combat the spread of industrial development/agriculture by promoting the economic and environmental benefits of low-scale, traditional farming. As per their website, ABN focuses on "Indigenous knowledge, ecological agriculture and biodiversity related rights, policy and legislation." The education, awareness and sustainable farming practices they encourage are critical in the face of Western farming techniques that "push for the privatization and industrialization of land, knowledge and biodiversity in the name of poverty alleviation." ABN currently works with 36 partners in Benin, Botswana, Ethiopia, Ghana, Kenya, Mozambique, South Africa, Tanzania, Togo, Uganda, Zambia Zimbabwe. They have also internationally partnered with the Gaia Foundation in the United Kingdom. Agricultural communities in Africa and worldwide must be resilient, diverse, and, most importantly, absent from powerful external pressures that dictate how one should cultivate their own land.
To learn more about ABN, Click Here: https://africanbiodiversity.org/.
5. Ol Pejeta Conservancy
Although tailored more towards species and biodiversity conservation/protection, Ol Pejeta in Nanyuki, Kenya, ensures a correlation between wildlife protection and better education, infrastructure, and healthcare to the surrounding community of next-generation wildlife guardians. Ol Pejeta is a safe-haven for some of the world's most endangered species, including Rhinosceries. It is home to the last two Northern White Rhinosceries on the planet, a species devasted by poaching and a global ivory market. It is one of Kenya's' leading research and innovation conservancies and an organization (as pictured above) that would literally die for the endangered animals they safeguard from poachers or other external threats 24 hours a day, 7 days a week.  Ol Pejeta also has a special place in my heart. In 2016, I was fortunate enough to travel with my family to help on the Anthropocene: The Human Epoch film shoot in Kenya, and meet the very last male Northern White Rhino named Sudan. It truly is an incredible organization with even better people.
To learn more, visit:https://www.olpejetaconservancy.org/